Can Invisalign® Clear Aligners Correct Overbites and Crooked Teeth?
Learn more about the secret behind attractive and uniform smiles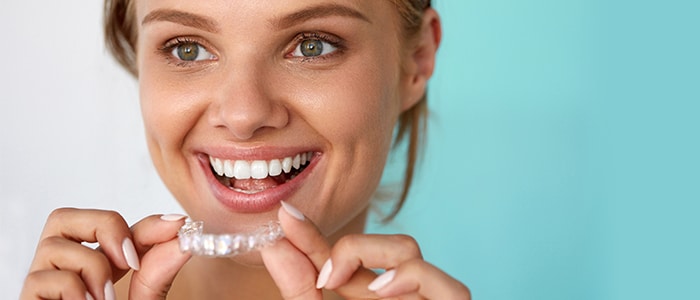 If you're like many others, you've heard about Invisalign® clear aligners – a popular and discreet alternative to traditional metal bracket and wire braces. Invisalign® uses a series of removable clear aligners to gradually shift the teeth to their desired positions.
But just how capable are these modern "braces" of straightening a smile in need of orthodontic care?
The answer: very capable! In fact, just like traditional metal braces, Invisalign® can successfully correct mild to moderate cases of malocclusion. So, in addition to making crooked teeth beautifully straight, they can also address functional orthodontic problems such as crowded teeth and underbites, crossbites and overbites (or "deep" bites) – which is one of the most commonly suffered type of malocclusion.
How Invisalign® corrects overbites, underbites and crossbites
No one should have to suffer from the pain and oral health risks of an improper bite, especially in highly symptomatic cases. Fortunately, Invisalign® invisible aligners are able to effectively and completely correct most cases of overbites, underbites or crossbites when worn for at least 22 hours daily, and over the duration of the assigned treatment plan.
Generally, correcting a bite will place a patient at a Level 3 in terms of treatment intensity, meaning that a treatment duration of anywhere from 9 to 24 months will be required to achieve the desired result.
Just like with traditional braces or any orthodontic treatment, wearing Invisalign® clear aligners will take some getting used to at first. But with persistent use, patients agree that the trays become more and more comfortable to wear.
"I wish I never fixed my crooked teeth" – said no one, ever!
Are you ready to correct your crooked smile or improper bite? That's great news! Chances are, Invisalign® clear aligners will be able to help your specific case, so you can start enjoying life with your best smile.
To learn whether you're a candidate for orthodontic treatment with Invisalign®, schedule a complimentary Invisalign® consultation with one of our Teeth First Network preferred provider dentists. Start by locating an Ontario dentist nearest you today.