Free Teeth Whitening for New Teeth First Clinic Patients
Boost your self-esteem
Show off a new, radiant smile
Keep smiling!
Interested in achieving a whiter, brighter smile capable of making heads turn? Keep reading.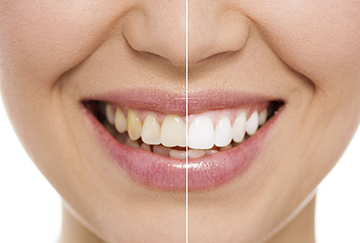 There's no doubt that a white, bright smile can really attract the right kind of attention. With that said, when you look at your smile in the mirror, do you ever feel that your teeth are looking a little dull or yellow/discoloured? If so, you certainly aren't alone – but don't worry, it's natural, and it happens to the best of us.
The teeth certainly tend to discolour over time, especially with daily coffee or tea drinking habits among other foods and drinks that stain the teeth. But lucky for you, there's a solution: professional teeth whitening!
Two teeth whitening methods offered by our Ontario dentists
Most of our Ontario dental clinics offer a quick (around 45 minutes) in-office whitening treatment to patients. The treatment is performed by a dentist, and involves the application of a safe bleaching agent or gel to the surfaces of the teeth that is then activated with an LED or blue laser light. This can enhance the natural tooth shade dramatically and provide a very stunning result instantly. Many patients feel a significant boost in self-esteem after they leave the dental office, and can't stop showing off their new and radiant smile.
Some clinics also offer a take-home whitening kit to patients. With this method, patients will follow a specific schedule to apply the bleaching gel using with custom fitted trays over a series of days or weeks, depending on the intensity of whitening the patient wishes to achieve. Both methods of professional teeth whitening are safe and effective when the provided instructions are followed closely.
How long will my brighter smile last?
Professional teeth whitening results typically last about a year before a touch-up is desired – but patients can help to keep their teeth whiter for longer by avoiding certain foods and beverages, including coffee and tea (as mentioned above), wine (both red and white!), berries, dark sauces and dressings and even tomatoes/tomato sauce.
Am I a candidate for professional teeth whitening?
Most people with a healthy smile are candidates for a professional teeth whitening procedure, as long as they are of age (typically over 15 years) and are not pregnant/breastfeeding. However, people with particularly sensitive teeth can expect some minor sensitivity during their treatment but this can generally be reduced with the use of a desensitizing toothpaste, or with the use of an over the counter pain medication. Sensitivity typically won't persist for long after treatment, and the dentist will not recommend whitening in the first place if he or she believes it isn't the right choice for your smile. Also, please keep in mind that any false teeth (this includes veneers, composite bonding or fillings) will not respond to whitening like the natural tooth enamel does.
Shine brighter with a whiter smile (for free)!
Teeth First Dental Network believes that every patient deserves to feel confident in their smile, and shouldn't have to break their wallet to do so. That's why we're offering complimentary teeth whitening to new patients with their initial dental exam and cleaning! Some restrictions may apply.
Talk to a Teeth First dentist at a clinic near you to schedule a free whitening consultation today.