Taking Care of Your Oral Health at Home, While you Can't Visit Your Ontario Dentist

We're all in this together - and hopefully all flossing, too.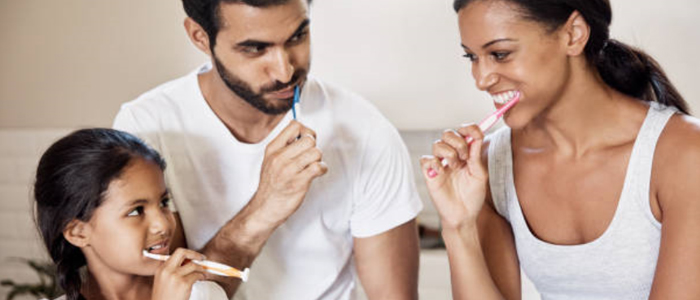 These are some trying times among us as we all do our part to social distance, stay home and reduce the spread of Covid-19. If you have had to cancel and postpone your dental check-up and cleaning for a later date, or if it's simply been longer than 6 months since you've had your routine visit - don't fret.
Our network of select preferred provider dentists in Ontario may only be available for emergency dental appointments for the time being, but you can still do what you can to keep your smile as clean and healthy as possible at home!
Until our hygienists and dentists can see you again for an examination and cleaning, here are the 3 things you can do on the daily at home to help protect your smile from gum disease and tooth decay:
1. Brush twice a day for 2 full minutes each time:
Remember to thoroughly (but gently) brush each surface of every tooth twice a day, or also ideally after eating anything that contains sugar.
It is best to use a toothbrush with soft bristles as to not damage the protective enamel layer of the teeth, and to also protect the gums from brushing-related recession.
2. Floss once EVERY day:
By neglecting cleaning in between the teeth and below the gum line, you're welcoming harmful bacteria to make a home in these areas - which will quickly lead to periodontal (gum) disease. Periodontal disease begins as a mild "gingivitis" and, when poor habits continue, advances to a much more serious "periodontitis".
Fortunately, proper daily brushing and flossing prevents gum disease.
3. Eat a balanced diet with limited processed or sugary foods and drinks:
We all know sugar can be a real enemy to our dental health. Try to be mindful of what you're consuming and limit your intake of processed or sugary foods and beverages to help keep your smile safe. Also, it helps to choose to eat your sweets along with your meals or not as regular or frequent snacks in order to cut down on the number of instances your teeth are exposed to sugar attacks.
Not so difficult, right?! :)
In the meantime, we'd like to kindly remind all Teeth First Dental patients and readers about how to stay safe from the contraction and spread of Covid-19:
Wash your hands frequently
Avoid touching your face, especially with unwashed hands.
Keep a minimum 6-feet distance from others, especially from those showing symptoms such as coughing or sneezing.
Avoid large crowds and stay home as often as possible, unless absolutely necessary to leave.
Wear a mask and seek medical assistance promptly if experiencing any symptoms such as coughing, fever, or trouble breathing.
We hope everyone has been staying safe, healthy, and complying with these guidelines.
Our Teeth First Dental Network will keep patients updated on the status of our clinics as often as we can.
Please remember that dental emergencies only will be accommodated after passing a phone call screening via your clinic's dental emergency hotline.
Thank you again for your patience during these tough times, and remember to give your smiles some extra love!