How Long Does it Take to Get Used to Invisalign® Clear Aligners?
Here's what you can expect as your smile adjusts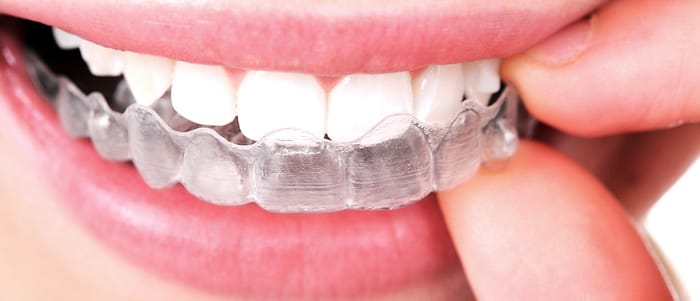 Have you been considering Invisalign® clear aligners to straighten your smile or correct your bite?
That's great! Everyone deserves to enjoy a beautifully straight and functional smile, and Invisalign® clear aligners can successfully (and more discreetly) deliver those results to patients with mild to moderate cases of malocclusion. But of course, any person considering using Invisalign® to correct their smile is naturally going to have some questions about the process – especially when it comes to comfort.
As you're probably familiar, Invisalign® uses a series of virtually undetectable, clear plastic aligners to gradually move the teeth to their appropriate positions. The good news is, these plastic trays are widely considered to be a more comfortable alternative to traditional metal braces.
Even so, it will take time for the mouth to adjust to any kind of dental appliance or treatment, and so there is likely to be moments of discomfort. Firstly, having an appliance fitted to the teeth and surrounding ligaments is going to be a noticeable sensation – it's simply not what you' used to feeling! On the other hand, like with traditional braces, Invisalign® works by applying consistent (albeit mild) pressure to the teeth in order to shift them, and it's this mild force that can cause some discomfort to the teeth as they adjust. But keep in mind, this is just the feeling of the appliance working!
Stick with it – it gets better.
Most patients adjust to the feeling of wearing their aligners within one to two weeks – but persistent use is key. The more you wear your aligners, the quicker you'll get used to them. In fact, it's important to wear your aligners for at least 22 hours every day, and understand that the less you wear them, the longer the process will be to achieving your final desired result. So tough it out in the meantime, and your aligners should feel more comfortable before you know it.
It is worth noting that with each new set of aligner trays you receive throughout your teeth straightening journey, it's typical to experience some minor discomfort or tenderness in the first 1-2 days of wear. This is normal and can be managed with over-the-counter pain medication like Tylenol or Advil if the discomfort is bothersome enough.
Beautifully straight smiles don't happen overnight…
To get the straight teeth you desire, it's going to take a little adjusting and commitment to your orthodontic treatment – whether that's with Invisalign®, traditional braces, or another method. But most patients agree that the (not always perfect) journey to a straight and attractive smile is completely worth it in the end!
To schedule a free Invisalign® consultation with one of our Teeth First Network preferred provider dentists in Ontario, locate a clinic nearest you today.